African American History & Genealogy Library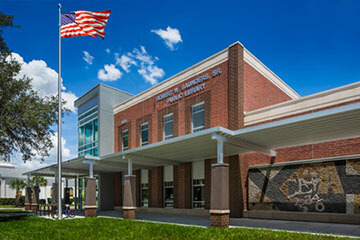 At the Robert W. Saunders, Sr. Public Library
Paying homage to the historic black neighborhood of Central Avenue, the Robert W. Saunders, Sr. Public Library, originally known as the Ybor City Branch Library, was renamed in honor of the civil rights activist and former NAACP Field Director. Mr. Saunders was named Florida's second NAACP Field Director after the bombing assassination of Harry T. Moore. He was Field Director from 1952-1965, during some of the most turbulent years of the civil rights movement.
Hall of History
Located on the first floor of the library, this interactive mini-museum features interactive displays and exhibits highlighting the historic Central Avenue business district.
Collection
The African American History & Genealogy Library features the only African American focused genealogy reference collection in Tampa-Hillsborough County Public Libraries.
The circulating collection features titles on all facets of African American life, history and culture.
The general reference collection has a variety of encyclopedias, atlases, local history binders, newspaper clippings and more.
The area is enhanced with a display of authentic African art.
The archives room features rare books, microfilm and historical memorabilia.
Historical Resources
Freedmen's Bureau Records
The Records of the Reconstruction-era government agency, which offered legal, economic and social assistance to freed slaves from 1865-1872, on microfilm.
Neighborhood Resources
Local history reference binders featuring resources on the historic black neighborhoods of Tampa.