Nearby Bus Stops
Palm River Rd. @ 76th St. - Route

8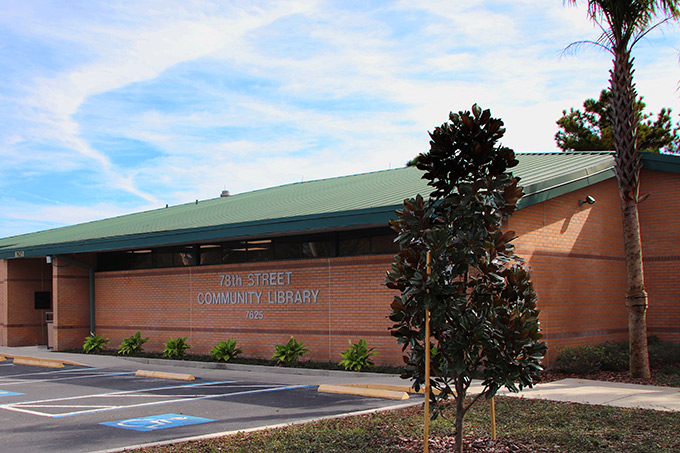 Overview
Funded by the .10 mill library property tax, this 8,000 square -foot facility offers free Internet access, WiFi connectivity, and a variety of programs and computer training classes for children, teens, and adults. The collection includes a broad assortment of books, magazines, music CDs, and DVDs.
A community meeting room and small study rooms are available for public use. Renovated in June 2008, the library also has lounge seating areas for leisure reading.
Friends of the Library
The 78th Street Community Library has an active Friends of the Library group.
History
The 78th Street Community Library, dedicated on Sunday, May 18, 1997, came about as a result of community advocacy from the Clair-Mel, Palm River, and Progress Village neighborhoods, as well as support from the Hillsborough County Board of County Commissioners, the Tampa-Hillsborough Public Library Board, and Hillsborough County staff.
Library Art
The interior of the 78th Street Community Library is enhanced by the distinctive public art piece titled The Knowledge Path.