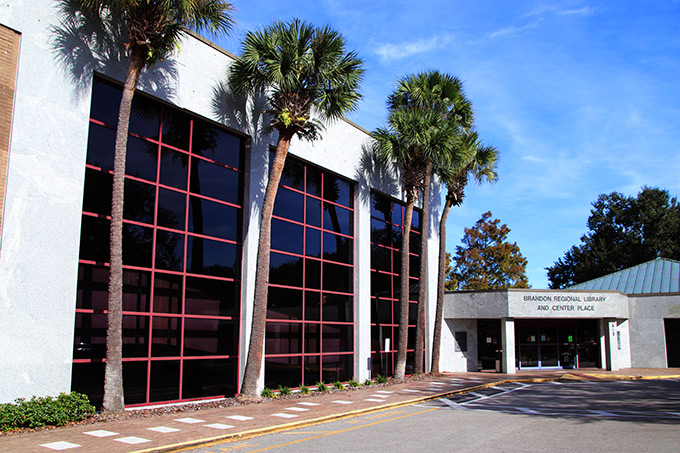 Services
In addition to the technology common to all locations and several meeting spaces, the Brandon Regional Library has:
Overview
The two-story Brandon Regional Library is located in the Sandy Rodriguez Center on Vonderburg Drive just west of Parsons Avenue along with its co-tenant, Center Place Fine Arts and Civic Association. This unique partnership between the library and Center Place fosters knowledge and artistic enrichment and serves as the heart of Brandon's cultural activities.
History
Library service in the community began in 1960 when the Brandon Women's Club opened a corner in its club building on North Moon Street to house the 1,000 books of the Brandon Area Library. In 1968, the Brandon Branch Library, operated by the Tampa Public Library System, opened at 135 West Robertson Street. An expansion to that facility was completed in 1975 but the need for a larger building became apparent as the community continued to grow.
The library opened at its current 25,000 square foot location on March 10, 1991 with a new name, Brandon Regional Library - one of the original two regional libraries in the Tampa-Hillsborough County Public Library System.
Friends of the Library
The Friends of the Brandon Library are active supporters and advocates for the branch and maintain a book sale area on the first floor. Proceeds from their book sales are used to fund library programs for children, teens, and adults.
Library Art
A distinctive public art sculpture, Past; Present; Future enhances the exterior of the building. Inside the library, the works of local professional artists are regularly showcased in an enclosed glass display area on the first floor.